News
19-02-2006
Dubai - Failure in Dubai
Vera Zvonareva couldn't pass through the first round and lost to Dubai Women Open Selima Sfar 6:2 5:7 3:6.
Vera looked very unconvincing and couldn't show her real tennis.
19-02-2006
Dubai - First round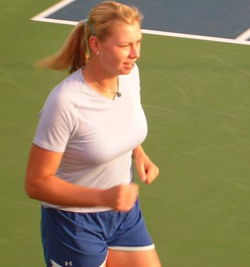 Vera will battle Selima Sfar in first match at the II tier tournament Dubai Women Open.
Tournament begin tomorrow, 20 February.
07-02-2006
Pattaya - Thai nightmare
Vera lost to Paola Suarez at Volvo Women Open 1:6 3:6.
Suarez said after the match: "I'm happy with the way I played. I thought the best part of my game was my serve in the first set after I got used to the balls. They are so fast and flying a lot. But I had to be focused and just play my game." Vera abandoned to commentaries.
17-01-2006
Australian Open - First match
Vera lost to Martina Hingis in first round at Australian Open 1:6 2:6.
Hingis returned to the Tour after a three year layoff earlier this season in Gold Coast.
The win over Zvonareva serves as her season-best, thus far. "It was beautiful to walk in there. Any time I come back into these grounds, it just feels amazing," - Hingis said following her win. - "There were so many memories coming back. This stadium has been so great to me."
09-01-2006
Sidney - First round!
Vera lost to Vera Doushevina at tournament in Sidney 4:6 6:3 1:6
07-01-2006
Auckland – Victory in doubles final
Vera with Elena Likhovtseva win at the final ASB Classic to Emelie Loit/Barbara Strycova.
07-01-2006
Auckland – Final
Vera lost to Marion Bartoli 2:6 2:6 at the finals of the ASB Classic.
Vera in speech says: "Congrats to Marion - I didn't show my best today - but it's a reason to come back in 2007 and show even better!"
Marion in speech says: "Congrats to Vera - I tke advantage of this moment because probably she will beat me next time"
06-01-2006
Auckland – Vera in final !!!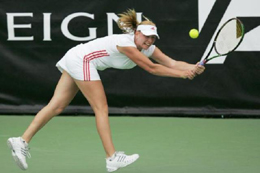 Vera in semifinal at ASB Classic winning against Daniela Hantuchova 6:2 6:2.
Daniela said after the match: The conditions were very tough and Vera just dealt with it much better. I think if she plays like this there's no reason she can't get back to the Top 10.
She's got a great game because there's not much that can really go wrong as she's very solid from both sides.
05-01-2006
Auckland – Russian derby
Vera Zvonareva - Maria Kirilenko 6:2 6:0 !
Vera said after the match:
"I think I went on court and was really concentrating from the first point to the last point and I am really happy with that. It is the beginning of the year but I think I played really good tennis today."
04-01-2006
Auckland – Vera come to the quater-final !
Vera win to Youn Cho in first round at ASB Classic in Auckland 6:3 2:6 6:1.
03-01-2006
Auckland – Vera come in second round
Vera win to Paola Suarez in first round at ASB Classic in Auckland 6:2 6:3.