Vera in Paris
I have been in Paris a few days now, preparing for the second Grand Slam of the year, the French Open at Roland Garros. I love being in Europe at this time of year-- spring is in full flow, and it just feels like the right time of year for tennis. Paris in particular is one of my favorite cities, although I have only had a small window to see the city and that has just been through a car window!
I have been staying at a tennis center in the leafy suburbs. Here I have been doing light training and have had a lot of treatment on an injured ankle, working hard to be fit for Roland Garros. I desperately want to play, having been forced out of action on the Sony Ericsson WTA Tour since the Sony Ericsson Open in Miami in March. You probably have no idea how frustrating it is for professional athletes to be kept from the thing that drives them. I couldn't begin to put it into words, but tennis players accept that injury is part of the job and have to manage their mindset accordingly.
I got my first proper glimpse of this beautiful city on Wednesday when I was traveling to UNESCO's headquarters. Here I attended a press conference announcing me as a new Promoter for Gender Equality, an ambassadorial role for the UNESCO-Sony Ericsson WTA Tour Partnership. It means a huge amount to me to have been chosen for this role, helping women and girls fulfill their full potential, striving to be treated and respected on an equal plane with men. Tennis has given me an incredible life, allowing me to make all of my own choices. Hopefully in my work for UNESCO, I can help do that for other women around the world.
After the conference I was given a tour of the UNESCO building, which has a dynamic interior and is well worth a visit. The walls are covered in art from all over the world, with the pi?ce de r?sistance being a mural by the Spanish artist Joan Miro along one of the original foundation walls. Visitors are free to touch it, and it really sets the tone for this incredible educational organization. And there's great views of the Eiffel Tower too!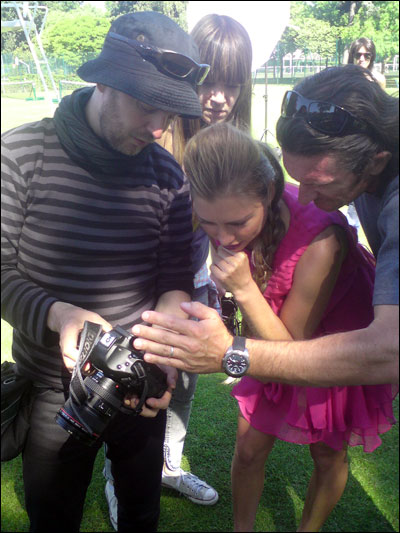 In the meantime, it's back to treatment and training. I move into a Paris hotel tomorrow, and I have a fashion shoot to do at one of the great old sporting clubs of France, Paris Racing Club, a green oasis right in the heart of the city.
I hoped I would be blogging this from the player lounge in the bowels of the Stade Roland Garros, having successfully navigated my way through a few sets of hard, dirt-track tennis and into the third round of the French Open at Roland Garros.
Unfortunately my worst fears, which I had tried to banish with a positive mindframe coming into this Grand Slam, were realized late on Monday when I had to withdraw from the championship. My ankle just isn't quite ready for the rigors of two weeks on clay fighting against the best in the business for one of the four top trophies in the game. Despite intensive treatment there weren't enough seconds on the clock to get me to the start line.
What this did mean is that I had a little more of what every player on the Sony Ericsson WTA Tour guards preciously in their locker: Free time, and in the great city of Paris. I told you on my first post how I love the French capital, especially in Spring. For the first time in years I got a real chance to stroll, well, hobble, around.
Actually I did something I very rarely get a chance to do, ride a bike--a great way to keep my fitness levels up without straining the ankle. This was a fantastic way to get around. In Paris they have Velib', this cool system of public bikes parked up on many of the rues (streets). You drop a few Euros in the coin slot and a bike is yours for however long you want and all you have to do when done is drop it off at one of the stands.
I rode out from the hotel straight to the Eiffel Tower which dominates the open skyline here. There is nothing that gets in its way from any view. It's impressive from afar and stunning up close. I wheeled down a pathway along the River Seine and pushed out to the Bois de Boulogne, the green lung of Paris, all under a brilliant blue sky.
There are only two other things the girls on the Tour value as much as free-time; their phones and fashion. For that I had to visit the famous, signature Louis Vuitton store in the center. Grand, historical and stylish, it is a window on the soul of this town.
I did my bit for the fashionistas on Tour by doing a photo-shoot for the British Sunday Times magazine last week at the Lagardere Paris Racing Club Croix Catalan. Have a look at the pics I got someone to take from my phone. Beautiful day, fabulous dresses, killer shoes and one of the few grass courts in the city should make for some great photos coming out just before Wimbledon starts. Which is where my mind is now. London is calling and I'm desperate to be fit and competitive for that wonderful traditional tournament at the height of summer.
Bye for now. Thanks for reading guys.
Vera Zvonareva, The Daily Traveler Travel Blog , May, 2009