Zvonareva/Ram Claim Mixed Crown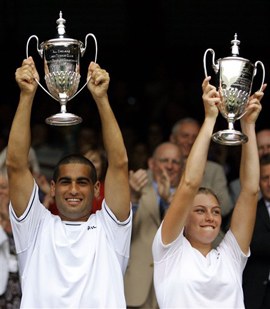 Showing breathtaking style and sparkling shot selection, ninth seeds Andy Ram and Vera Zvonareva captured their first ever mixed doubles Grand Slam title with a stunning straight sets victory over American duo Bob Bryan and Venus Williams.
Bryan – who earlier triumphed in the men's doubles with twin brother Mike – had been hoping to claim his second title of the day, but Israeli Ram and Russian Zvonareva simply outclassed their opponents, easing through 6-3, 6-2, in less than an hour.
The first set began tightly. Both pairs resisted temptation to approach the net, but it was Ram and Zvonareva – who just hours earlier had overcome former champions Wayne and Cara Black in a straight-sets semi-final victory – who stamped their authority on the match with a clever mix of searing ground strokes and quick net volleys.
Serving in the fourth game, former ladies' singles champion Williams gifted her opponents two break points, and they confidently took the second to go a break up. 26-year-old right-hander Andy Ram produced some truly outstanding serves, and when combined with the occasional mid-point mis-communication between Bryan and Williams over shot responsibility, the first set was over all too quickly.
By the time the second set began on an increasingly chilly Centre Court, Bryan was visibly weary, and so it came as little surprise when Ram and Zvonareva – who was also recently crowned ladies' singles champion at Birmingham – combined brilliantly to break the tired 28-year-old American's serve in the opening game.
Despite some valiant return attempts from a jaded Bryan and Williams – who overcame the 11th, sixth, fourth and second seeds in straight sets to reach the final – the Americans failed to stifle their opponents' growing dominance.
Ram and Zvonareva – who frequently impressed with some quite breathtaking passing shots – controlled the match, as 21-year-old Zvonareva continued to produce punchy shot after shot, which even the unusually lacklustre Bryan was unable to cope with.
Serving for championship point after another break of service late in the set, Ram and Zvonareva – who had also eliminated nine times ladies' singles champion Martina Navratilova and Mark Knowles in the third round – combined brilliantly to end the match with a lethal serve and volley finish.


Written by Andrew Gregory, 08.07.2006