Zvonareva Wins Cincinnati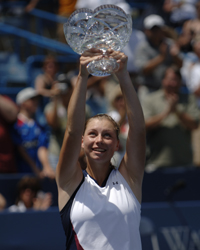 Displaying much of the form that kept her inside the Top 10 throughout 2004 and 2005, Vera Zvonareva stormed through the Western & Southern Financial Group Women's Open draw this week in Cincinnati, capping her fifth career title run with a 62 64 victory over Katarina Srebotnik in Sunday's final.
After both finalists held serve through the first four games of the match, it was the unseeded Zvonareva who made the first move, breaking serve in the fifth game with a stunning backhand down-the-line winner and running away with the first set in just 26 minutes. She built leads of 2-0 and 3-1 in the second set, and although the No.4-seeded Srebotnik rallied to even things up at 3-all and saved a match point at 5-3, Zvonareva held her nerve and closed it out in the 56th minute for her second title of the year.
"I was fighting for every point," said Zvonareva, who also won her only prior meeting with Srebotnik, on Croatian clay four years ago. "It was a long time since I last played her, and I didn't know what to expect so I just figured it out on the court. I had a few less errors than her too so that helped. But I'd like to congratulate Katarina for reaching the final, she really did great this week."
The championship victory over Srebotnik was the last of five impeccable performances this past week in Cincinnati, all but one of which lasted less than an hour. She opened her week with back-to-back 58-minute decisions over No.7 seed Tatiana Golovin and unseeded Varvara Lepchenko (63 60 and 60 62, respectively), then crushed No.5 seed Jelena Jankovic, 61 61, in a 42-minute quarterfinal. Her most impressive win came Saturday with a 62 63 victory over a resurgent Serena Williams in one hour, six minutes, before beating Srebotnik in 56 minutes. Her average match time this week was 56 minutes. "No matter what the scores were, you always feel under pressure," Zvonareva declared. "The match can turn at any time. When I first started playing the Sony Ericsson WTA Tour, if you lost concentration for one or two games it was okay, because the match would still be sort of the same; but now you have to focus on every point. So it was much more difficult than what the scores looked like."
"She's been playing unbelievable since Birmingham," said Srebotnik, who fell to 4-4 lifetime in Tour singles finals with the defeat. "But I won the most games in one set from her this week, 6-4, so I'm happy about that. We play in the first round next week in Stanford, so I hope to get revenge then!"
Zvonareva, who spent time inside the Top 10 during the second half of 2004 and in the early months of 2005, struggled with a left ankle injury in the second half of 2005, and although she did reach a final at Auckland in the first week of this season, continued to struggle with her form through this year's clay court season. But the former world No.9 hit her stride on the grass of Birmingham last month, winning her fourth career Tour singles title, and now wins two titles in one year for the first time. Despite coming in ranked No.50, she now feels like she has more tools to launch another assault on the game's elite.
"I'm still the same person, but now I feel a little more mature than when I was first in the Top 10," said the 21-year-old Muscovite. "I don't really know what my ranking is. It doesn't really matter to me. It's important for seedings, especially at the Grand Slams; like this year, I had Martina Hingis, Dinara Safina and Kim Clijsters in the first rounds. It's important so I don't play the Top 10 early. Other than that it doesn't matter. Now I won two titles this year, so that says it."
Although the week belonged to Zvonareva, there were several storylines that came to prominence at the Western & Southern Financial Group Women's Open, most notably the comeback of seven-time Grand Slam champion and former No.1 Serena Williams, who notched a resounding 62 62 win over Anastasia Myskina in a first round blockbuster en route to reaching the semifinals. Other headlines this week included Srebotnik's nail-biting, third set tie-break victory over top seed and defending champion Patty Schnyder in the semis, which served as her third career Top 10 victory; American veteran Amy Frazier reaching her 90th career quarterfinal; and the recapturing of the service speed record by Dutch veteran Brenda Schultz-McCarthy, who belted a 130mph serve in qualifying.
With her run here, the looming first round rematch in Stanford seems like it would be an afterthought for Zvonareva, but just like she did all this week, she is already looking towards her next match.
"It's been a really unbelievable week for me, but I'm looking forward to Stanford. Playing someone two weeks in a row happens sometimes; and we'll see what happens when we play next week."


Andrew Lewis, wtatour.com, JULY 2006