Dechy, Zvonareva Defy The Odds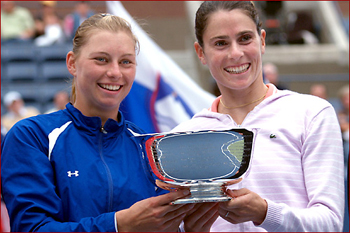 In a doubles fortnight full of surprises, it seemed only fitting that the champion's crown would go to one of the most unheralded teams in the draw. Playing only their fourth event as a team, Nathalie Dechy and Vera Zvonareva were the last women standing, defeating Dinara Safina and Katarina Srebotnik in two sets, 76(5) 75, for the US Open doubles title.
The unseeded duo of Dechy and Zvonareva remained solid through some particularly tight situations during Sunday's final. With Zvonareva serving 4-5 they clawed their way out of triple break point to even things up 5-all, then in the tie-break roared back from a 5-3 hole, winning the last four points to clinch the set. Finally, they broke their No.8-seeded opponents at love in the ultimate game of match to complete the one-hour, 46-minute championship win.
"It's just the way the game goes, and we got to enjoy it no matter what," said Zvonareva about the gritty handling of the tight situations. "That's what we've been working at for 20 years, to play in front of the crowd on the center court of a Grand Slam in the final. It's a great opportunity. You just have to enjoy it. No matter how you play, try to do it."
Although they never faced the world's Top 2 teams, Dechy and Zvonareva were definitely not spoiled when it came to the draw they were given. They survived three-setters in their first two matches, a 75 16 63 victory over Kaia Kanepi and Gabriela Navratilova, and a 36 64 62 defeat of No.4 seeds Daniela Hantuchova and Ai Sugiyama. They won the rest of their matches in straights, including two more upsets in the quarters and semis, over No.7 seeds Virginia Ruano Pascual and Paola Su?rez and No.6 seeds Kveta Peschke and Francesca Schiavone. "The first match was such a nightmare," Dechy said.
"It was so bad," Zvonareva added. "I couldn't put the ball in the court. We hadn't really played together too much, and I was playing singles and I was just feeling on the court I have no space, like I couldn't make a shot in doubles. Every shot was going into the net or to the fans, because I couldn't find the court. But then we started communicating with each other better."
Upon defeating the No.8 seeds in the final, they became the first unseeded team to claim a Grand Slam women's doubles title in over five years, since the Williams sisters captured the Australian Open in 2001 as a wild card tandem.
"We were not seeded, but we played some good matches in the French Open already," said Dechy; in their first event, they made the Roland Garros quarters. "We really got better match by match, I think. It's not a matter of seeding; it's a matter of playing well match after match."
And the seeds certainly fell during the fortnight. Top seeds and defending champions Lisa Raymond and Samantha Stosur and No.3 seeds Cara Black and Rennae Stubbs both fell to Safina and Srebotnik prior to the final, while No.2 seeds Yan Zi and Zheng Jie lost to Peschke and Schiavone.
But it was a happy ending for both Dechy and Zvonareva, to whom the US Open marked a career-first Grand Slam women's doubles title. Zvonareva had only made one major semifinal in women's doubles previously, while Dechy hadn't even passed the quarterfinals. But there's a first for everything. "You always come to the tournament with the desire to win," said Zvonareva, a two-time Grand Slam mixed doubles champion, including at Wimbledon this year. "But, it's more important to not expect anything. Just go on court, do your thing. Just concentrate on every point, go match by match, like Nathalie said. That's what we were doing well. No matter who's on the other side of the net or how we're playing, we try to fight for every point. That's the most important thing."


Wtatour.com, September 10, 2006