Vera's exclusive interview for the website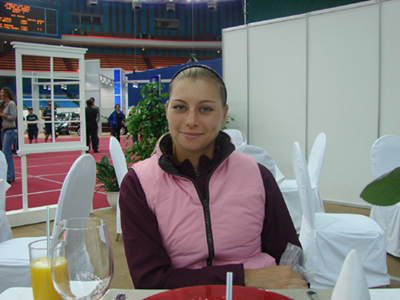 - This year you have won grass and hard surface tournaments, you play on soil surface well, so what surface do you like the most?
- I think, it's always different, for me it's just a matter of getting accustomed to some surface, and when I'm accustomed, I just need to find my game, and the surface is not important.
- What victory including your youth competitions do you consider the most valuable?
- It's difficult to say, every victory is somehow remembered. The first victory in Bol was very pleasant. Then, in Memphis, I had been the winner for two years running, and it was great too. I enjoyed it much in Birmingham. The first Grand Slam we've won with Bob Bryan was also something special.
- And what about this year?
- It's the first year I've won at two single tournaments and two Grand Slams at the same time. Sometimes people ask me – why can't you win at Grand Slam by yourself while you are able to do it in pair, in a mixed game? I answer them that the victory is victory and it doesn't matter what kind of victory it is. All the tennis-players strive for victory since their early years. And in the beginning they all want to just reach these tournaments. And as for playing at central court or, moreover, taking part in final round, it's something special. Of course, it is desirable to win all the games, but for me mixed and pair game victories are also very important.
- What is your aim for the next year?
- I've understood it a long time ago, that when you make something your aim, like getting into top-20 or top-10, it's very hard for you to get on. I don't have some particular aim, for me the main thing is going to the court and playing every single ball. I mean, showing my best at every game, no matter in what kind of game, only then there will be success.
- What kind of tennis do you like the most: mixed, pair game or single game?
- Of course, I enjoy playing single game contests, because it's the main type of tennis. Mixed is very interesting to play, it's very hard for me though, but I like it very much. And as for a pair game, I can talk to my partner about anything, sometimes we don't think about anything, just talk, and then – bang! – we're in the final round (laughs).
- You have changed your racket, your clothing sponsor, your website. Did you decide to change your tennis life fundamentally? - The first thing I've changed was my uniform, my contract with Adidas expired, and this company had wished to sign a new contract with me for a long time. I have changed my racket because of the problems with my shoulder – I just couldn't play with the same racket last half of the year. Now it's better with my shoulder, but now I feel some pain in my hand (Vera had an ice compress on her left hand during the interview). I've changed my coach because Lex couldn't visit all the tournaments with me, he has his own tennis club in the USA, and Sam is very experienced, and a very nice person on the whole. We met each other in December, he now works with three girls – Elena Likhovtseva, Meilen Tu and me. We are a very friendly team and we feel well by each other's side.
- And who receives more of Sam's attention?
- He had been working with Melien for more than 10 years, that's why he works with her more. But really, Sam mainly visits the games, sometimes he can miss a warming-up, when someone else of our team plays. Really, he visited almost all of my tournaments this year.
- Has something changed in the process of coaching?
- Every coach has an individual approach to this process. Sam has just introduced new ideas, one can know many interesting things thanks to him.
- The season is almost over, how do you appreciate it?
- Despite everything I think I had a very successful season. There were injuries, but there were also very good victories. It's a great success to win two pair and mixed class Grand Slams and two single tournaments in one year. And, based upon this success, I'll be getting ready for the next year.
- You have been in WTA for a rather long time, has anything changed there during the last years?
- In the course of time a lot of new people appeared, and woman's tennis itself has changed and is now much greater in quality. It's hard to play against all the young girls, they are all quite ambitious, there are now no easy games in the first lap. So, every year it's harder and harder to play. There are lots of injuries because we play a great number of games and every game is very hard. If we even take some other sports game, like, for example, football, there we don't face the situation of playing for 6 days running. That's why tennis is very hard sports in this way. But there's nothing to be afraid of, all the tennis players face the same conditions.
- You have once said in an interview, that you dreamed of a parachute jump; has your dream come true?
- It was really a joke, I had been interviewed and they asked me what unusual thing I would like to do. First I said I didn't have anything to answer, but then I thought a little and said – well, maybe something like a parachute jump. But I don't think it is really my dream, and I guess I will never get ready for such thing, I don't really like the high altitudes. It would, of course, be nice to try it, but I don't think it's gonna happen in my life.
- And what kinds of sport games do you like to play when you are free from tennis?
- In my childhood I enjoyed playing field hockey, as my mother played it. I would with pleasure play pool; really I'm not a good pool player, but sometimes it's good to relax.
- Are you friends with some other sport games players?
- During my coaching in Washington I got acquainted with some hockey players from "Washington Capitals" – Andrew Nikolishin, Sergey Gonchar, Dainus Zubrus. We even performed the general training with a single specialist. But really I don't communicate with some other players. Though, recently I had a talk with Alina Kabaeva at a presentation of "Slava" sport award.
- During your vacation, for how long do you not touch the racket?
- I guess, three weeks the longest.
- You have travelled around almost the whole world... What places would you also like to visit?
- I haven't been to Africa for a single time. Daniela Hantuchova told me that she often coaches in South African Republic in a beautiful city Cape Town, and I would very much like to visit this place.
- When have you been in the subway for the last time?
- A month ago... I and my mother were driving in the same car, I had to meet a friend of mine who wanted to visit me. And I had to pass a few stations so that my friend could meet me and take me home.
- Some tennis players coach in academies, and where do you mainly coach?
- When there are tournaments in Europe, I go back to Moscow and coach in CSKA tennis center. And when I'm in the USA – I go back to Tampa and coach together with Sam and Meilen, they have a big house there.
- Do you study right now?
- Yes, I am a last-year student of a Physical Culture Institute.
zvonareva.ru, OCTOBER 2006