Vera Nearer Perfection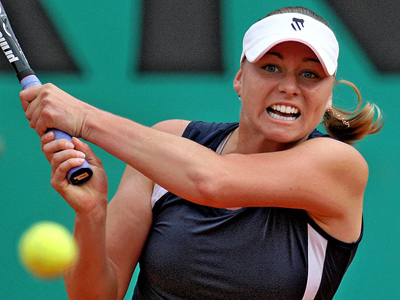 With Dinara Safina getting to the Australian Open, some people may have overlooked Vera Zvonareva's impressive semi-final showing in Melbourne. The 24-year-old, who broke into the top five for the first time after her showing Down Under, talks to Talk Tennis about why Russian tennis is so strong, why Boris Yeltsin is a hero and why she won't be prioritising Wimbledon this year.
On kicking on from reaching her first Grand Slam in Australia: I'm not really thinking about it. I'm trying to improve no matter what, I have lots of room for improvement but I'm always confident in myself. I've got a lot more experience now and I'm a more mature player.
On how long Russia can continue to produce top players: There are quite a few good juniors coming up but also, if you look at all of us, Dinara is only 22; Elena Dementieva is 27 and probably has a couple more years to play; Svetlana is 23; I'm top 10 and I'm 24 and then there are a few other players and they're all younger than 25, so I'm sure we will see lots of Russians in the next year or two. But we also have people like Ksenia Pervak, who won the Junior Australian Open final (against Laura Robson).
On why Russian tennis became so strong: Tennis became so popular thank to Boris Yeltsin. We had such a great champion in Yevgeny Kafelnikov and then Anna Kournikova was one of the first ones on the female side. Then it was Anastasia (Myskina) and Elena coming up and lots of girls were practising with them, growing up looking up to them. They started to believe in themselves more, thinking they deserved to be out there as well. We challenged each other a little bit, which helped each other to improve because we practised with each other, we trained in the same facilities and it just made us better and better.
On developing kids: We have lots of great kids' coaches. We don't have so many Russian coaches working with the professional players on the tour but I think we have great coaches for the kids. They see the talent, work with them, so we get a lot of great juniors but after that everyone makes their own way. Tennis is not cheap, you need money and facilities so lots of juniors are then forced to move somewhere else. So I stayed in Russia when I was young and then I practised over in the US when I was 16 or 17 for quite a while.
On tennis and the credit crunch: I think it might make it a little bit more difficult because to create a good player you need lots of sponsorship for most kids. Most parents can't afford it because you have to travel, you have to compete, you have to get the experience. It will make it difficult but if we have lots of talent and lots of kids playing tennis, the challenge itself will still produce lots of good players.
On the difficulties of success at Wimbledon: It's very tough to make Wimbledon a priority. Of course it's a Grand Slam and of course I want to do as well as possible out there because I love the tournament, but I only get the chance to play one tournament on grass before Wimbledon and I really never get the chance to practise on the grass courts. If you look at my whole career, you can literally county how many weeks I've played on grass. It would be something like 20 weeks in total throughout my career since I was six years old. It's not enough so it's very difficult to produce your best tennis. But I will try to maybe change my preparation because Wimbledon is a special tournament. It's not only a Grand Slam, it's something with so many traditions that I have been watching on TV since I was a kid.

Alex Kay, Daily Mail Sport