Vera Makes a Move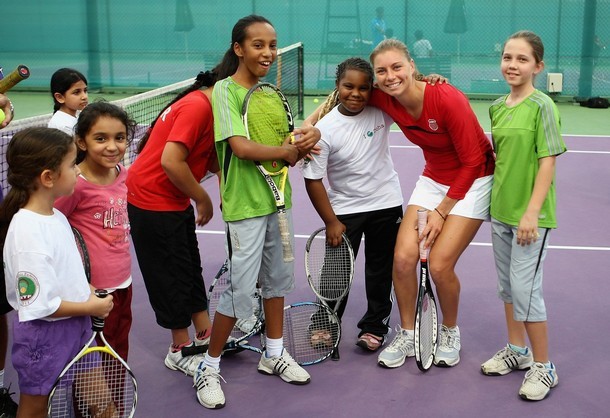 Howdy, everyone. I hope y'all had a great New Year's weekend, and how 'bout them Jets!
I'll be working today on a red-meat post, amplifying some of the comments I made in my new post over at ESPN, regarding the unfolding of the Kim Clijsters/Justine Henin comeback narratives. Bobby Chintapalli is also busy working on a WTA-related post that we'll publish as the Australian Open approaches. The new year in tennis is officially underway, and one of the first bits of news to come across the transom is that Antonio Van Grichen, who guided Victoria Azarenka's career until just a few weeks ago, is getting back in the coaching saddle. He'll be working with Vera Zvonareva.
Antonio emailed me the news a few days ago, writing:

These past weeks have gone well, Vera's coming back from ankle surgery. She'll play the Hong Kong exhibition, then we'll see where she's at. It's a great challenge to start working with her right now; she's highly motivated, I'm highly motivated -- she's a consumate professional and hopefully she'll have a better and injury-free 2010.

This was a good choice by Zvonareva; I'm glad Antonio decided against taking a few months off before looking for a new protege. I like this fit because Antonio is a very mellow, understanding guy with a gentle touch - just what a sensitive player like Zvonareva needs. And the start of a new relationship always represents the flowering of new hope, in both player and coach. Whether Zvonareva is too set in her inconsistent ways, or too accustomed to life just near enough the top to be comfortable, but distant enough not to be too stressed out, remains to be seen. At any rate, this seems like a now or never moment of her career.
The one thing I'm pretty sure about this is that she's got a lot of game -- easily enough to handle some of the women ranked well above her, if Vera and Antonio can put all the pieces together. I think Vera could do well to borrow a page from Brad Gilbert's coaching manual, embracing the fact that you don't have to play well enough to beat anyone in the world on any given day. You just have to play well enough to beat the person across the net. We'll follow Vera's adventures this winter and spring a little more closely now that Antonio is in the mix.

-- Peter Bodo