News
30-12-2013
Shenzhen - Firts match
Vera has played her first match after returning. In the doubles she with Olga Govortsova lost in three sets.
Unfortunately in the singles Vera got the worst possible draw. She was playing againts world #3 Li Na and hasn't managed to win 5:7 3:6
25-12-2013
Vera arrived to China !
Today Vera has arrived to China where she is going to play her first tournament in 1.5 years !!
25-06-2013
Another achievement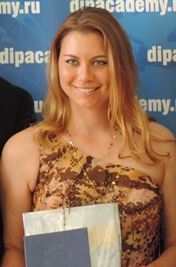 Today Vera has graduated from the Diplomatic Academy of the Ministry for Foreign Affairs of the Russian Federation where she studied the international economic relations.
Congratulations !!
All pics you can see in the gallery
01-06-2013
Master class in Moscow
Today  Vera Zvonareva has given a master class to young athletes at the Red Square in Moscow.
All pics you can see in the gallery
13-02-2013
News from Vera
Hi my dear friends, fans and supporters!
I know it had been a long time since I last gave you an update on my return to competition but I was waiting for a moment to be certain about it. I would like to inform you that yesterday I underwent a surgery on my shoulder. As you know, I have been away from competition since Olympics and also had to miss a part of the beginning of the season last year. I took my time to rehab and have done everything that was possible to avoid a surgery but at this point it felt like it was the best solution. So now I will do everything that is possible to get back to competition again as soon as possible but it could still take few months to be able to compete at highest level. You, guys, my fans, are keeping me motivated to achieve a goal of getting back to 100%  and become even better. I miss you a lot and hope to see you soon!
Hugs, Vera.
21-12-2012
Vera won't play in Australia
Vera:
"Hi my dear friends and fans! As to my dissappointment i will have to miss the beginning of the tennis season due to my injury (((
Im doing good but just not enough to be ready at 100% ! and i need it to be able to compete at the highest level! I will stay a little more patient for now and hope to see you all very very soon!!!"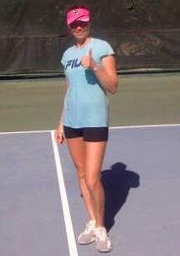 Vera: "Working hard in Florida today. Getting ready for 2013!".
01-08-2012
Olympic games - Loss
Unfortunately, in the third round of the Olimpic Games Vera Zvonareva lost to American Serena Williams.
30-07-2012
Olympic games - Vera in the third round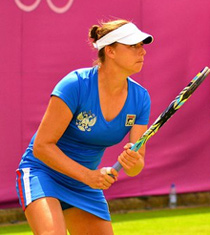 Vera Zvonareva has reached the third on the Olympic Games after a very convincing win over Italian Francesca Schiavone 6:3 6:3.
Then Vera will play against famous Serena Williams.
28-07-2012
Olympic games - First win
Today Vera Zvonareva has won over Sofia Arvidsson from Sweden in the first round of the Olympic games in London 7:6 6:4.
24-07-2012
Vera in London
This week Vera is preparing for the Olympic Games in London, that starts on July 28.
29-06-2012
Wimbledon - Loss
Vera couldn't finish the match versus Kim Clijsters in the third round of Wimbledon, because she took a chill - 3:6 3:4.
27-06-2012
Wimbledon - Vera in the third round
Today Vera has won over Spaniard Silvia Soler Espinosa 6:1 3:6 6:1. Vera made 9 aces in this game !
Next opponent - Kim Clijsters from Belgium
26-06-2012
Wimbledon - First win
Vera was playing her first match at Wimbledon. She lost the first set 2:6, but managed to win in the second 7:6. Then play was suspended due to darkness.
On the next day Vera finally won 6:4.
29-05-2012
Vera pulls out of Roland Garros
Unfortunately, Vera withdrew from the Roland Garros shortly before her first-round match Monday, citing an injured right shoulder.
Vera Zvonareva lost to Petra Cetkovska from Czech Republic 2:6 2:6 in the first round of the Mutua Madrid Open 2:6 2:6.
Vera has a shoulder injury and she will skip Rome.
21-04-2012
Moscow - Fed Cup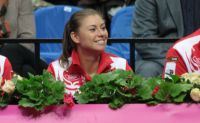 This week-end Russian team is playing against Serbia in the Fed Cup.
Vera can't play because of an injury but she is supporting her teammates on the stadium.
19-04-2012
New photoshoot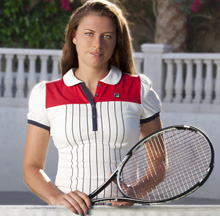 Vera recently did a new photoshoot for her sponsor FILA.
All pics you can see in the gallery.
08-04-2012
Charleston - Tournament is over
Unfortunately, Vera Zvonareva lost to Lucie Safarova in the quarterfinal in Charleston 3:6 3:6.
Also Vera has to skip Fed Cup and Stuttgart because of a shoulder injury.