News
03-01-2015
Shenzhen - Season 2015 has started
Last week Vera played couple of matches at a small ITF tournament. And now she is going to play at the WTA event in Shenzhen, China.
Her first opponent is Shuai Peng.

08-07-2014
World Team Tennis
This week Vera takes part in an exhibition event WTT (World Team Tennis) in Austin, Texas.
In her singles matches Vera beat Daniela Hantuchova twice (5:3 and 5:2), then she defeated Olga Govortsova 5:3 and lost to Martina Hingis 1:5.
28-06-2014
Wimbledon - Loss
Unfortunately Vera lost lo Zarina Diaz in the third round of Wimbledon 6:7 6:3 3:6.
Anyway this tournament was successful for Vera.
26-06-2014
Wimbledon - Into the third round !!
Today Vera has beaten a young star from Croatia Donna Vekic 6:4 6:4 and reached the third round at Wimbledon !
She will play there against Zarina Diyas from Kazakhstan.
25-06-2014
Wimbledon - First match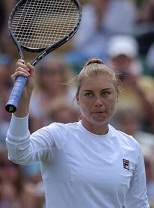 Vera has started to play at Wimbledon. She won the first set against Tara Moore 6:4 but lost in the second - 6:7. Then the match was interrupted.
Deciding set was played on the next day, on 25 June, and Vera pulled out the win 9:7 !
12-06-2014
Moscow - Tennis legends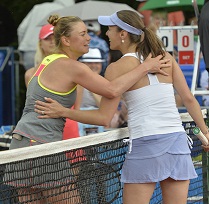 On 12 June  Vera took part in "tennis legends" event in Moscow along with Martina Hingis, Monica Seles, Eugeny Kafelnikov, Goran Ivanisevic etc.
Vera played single match against Martina Hingis.
Vera lost to Peng Shuai in the first round of the BNP Paribas Open 6:4 0:6 5:7.
Vera: "Was great to be back on the Center court of @BNPPARIBASOPEN! Lost a tough one today, Shuai played good tennis out there!"
29-01-2014
Pattaya - Bad luck
Vera Zvonareva has lost to her compatriot Ekaterina Makarova in the second round of the PTT Pattaya Open 0:6 2:6.
But in the doubles Vera has reached the semifinal.
28-01-2014
Pattaya - The first win for 1.5 years
Vera has finally won her first match after returning. In the first round of the tournament in Pattaya she beat a local player Peangtarn Plipuech 6:3 6:2.
In the doubles Vera with her partner surprisingly defeated the AO finalists Makarova/Vesnina 6:0 6:4.
13-01-2014
Australian Open - Loss
Unfortunately, Vera isn't ready so far to play at the high level after missing 1.5 years. Today she has lost to Casey Dellacqua 2:6 2:6 in the first round of the Australian Open.
After AO Vera will play in Pattaya.
30-12-2013
Shenzhen - Firts match
Vera has played her first match after returning. In the doubles she with Olga Govortsova lost in three sets.
Unfortunately in the singles Vera got the worst possible draw. She was playing againts world #3 Li Na and hasn't managed to win 5:7 3:6
25-12-2013
Vera arrived to China !
Today Vera has arrived to China where she is going to play her first tournament in 1.5 years !!
25-06-2013
Another achievement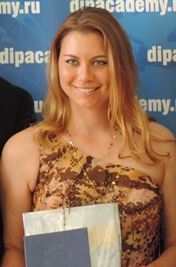 Today Vera has graduated from the Diplomatic Academy of the Ministry for Foreign Affairs of the Russian Federation where she studied the international economic relations.
Congratulations !!
All pics you can see in the gallery
01-06-2013
Master class in Moscow
Today  Vera Zvonareva has given a master class to young athletes at the Red Square in Moscow.
All pics you can see in the gallery
13-02-2013
News from Vera
Hi my dear friends, fans and supporters!
I know it had been a long time since I last gave you an update on my return to competition but I was waiting for a moment to be certain about it. I would like to inform you that yesterday I underwent a surgery on my shoulder. As you know, I have been away from competition since Olympics and also had to miss a part of the beginning of the season last year. I took my time to rehab and have done everything that was possible to avoid a surgery but at this point it felt like it was the best solution. So now I will do everything that is possible to get back to competition again as soon as possible but it could still take few months to be able to compete at highest level. You, guys, my fans, are keeping me motivated to achieve a goal of getting back to 100%  and become even better. I miss you a lot and hope to see you soon!
Hugs, Vera.
21-12-2012
Vera won't play in Australia
Vera:
"Hi my dear friends and fans! As to my dissappointment i will have to miss the beginning of the tennis season due to my injury (((
Im doing good but just not enough to be ready at 100% ! and i need it to be able to compete at the highest level! I will stay a little more patient for now and hope to see you all very very soon!!!"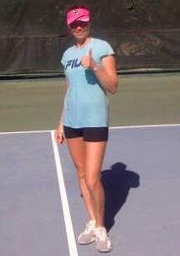 Vera: "Working hard in Florida today. Getting ready for 2013!".
01-08-2012
Olympic games - Loss
Unfortunately, in the third round of the Olimpic Games Vera Zvonareva lost to American Serena Williams.
30-07-2012
Olympic games - Vera in the third round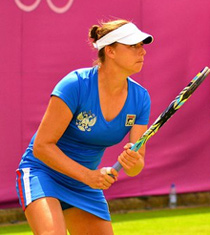 Vera Zvonareva has reached the third on the Olympic Games after a very convincing win over Italian Francesca Schiavone 6:3 6:3.
Then Vera will play against famous Serena Williams.