Diary (archive)
Greetings to all !!!

Now I'll tell you what has been happening with me lately and the beginning of my story will be US Open.
I had approached it in not the best form, the more's the pity that my injury prevented me from normal training before the tournament. I had to be extremely careful while training in order not to twist the knife. I knew beforehand that US Open would be very difficult, I wanted to go through one round only, but then I became accustomed and got into shape a bit. Nevertheless, my injury didn't let me forget about it. It was hard to play, in addition, my tendons inflamed. Hard matches against Anna Chakvetadze and Elena Vesnina took not so much time, but because of my leg and general physical condition, they were quite painful for me. More matches more fatigue and, finally, this condition played its role while game against Pennetta.
During the second set, I got a cramp in my feet but generally because of the fact that they were bandaged. Then I understood that if I had gone down in the second set, I would not have enough strength for the third set. It is very difficult to play against Pennetta as she is always forcing her rival to move too fast and one should be in ideal condition in order to stand against her. Despite I had match points I was not upset, I know that I did all my best but unfortunately, I did not have enough strength.
The next day after the match, it was my Birthday. My mood was not so cheerful, but in order to feel fest I and my sparring-partner Alex Ageev decided to eat at a restaurant. We found one and ordered a chocolate cake and ice cream – that was my birthday!
Several days later, I went to Moscow and then on 17 September I went to Khanty-Mansiysk to take part in congress of UNESCO "Education for Sustainable Development". I had been invited to participate in the congress, as I am one of promoters of the campaign on gender equality. It was very interesting for me as representatives of UNESCO from more than 25 countries of the world came to take part in the event. I had prepared my speech for the congress in advance. I liked it. Everything was very successful. It was my first visit to Khanty-Mansiysk, there had been built a chic tennis center. This year, a week before "Kremlin Cup" there will take place the Russian championship.

I taught a master-class for children there. There were about 50 boys and girls. Everybody was satisfied, I dispensed many autographs, there were taken many photographs. After the master-class, I met the Governor of the Khanty-Mansiysk Autonomous District. I even found time to have a sightseeing tour, but it was rather windy outside. By the way, I stayed in the hotel where participants of the World Cup on biathlon usually stay. It is called "On Seven Hills" and it is situated exactly at the ski depot.
Then I came back to Moscow, where I am staying now. I do not train as I have been recommended to have a short rest. At present, I go to the gym but try no to do abrupt movements in order not to make the situation worse. Then i am going to play in Tokyo.

Embrace all,
Vera

traslation
Kindest greetings to all!
It happened that in the spring I was injured and have not played for a long time since then… I was trying to recover and did all my best in order to get my leg to normal. I had to deal with it twenty-four hours a day! I wanted so much to play at Roland Garros, but in vain…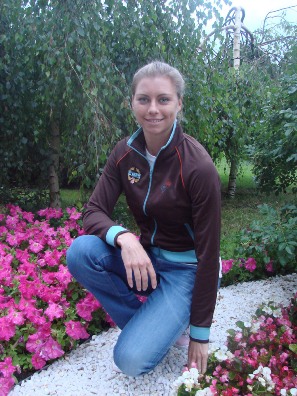 Eventually, I had completely recovered only by Wimbledon and played several matches there. I had to try to make loading to my leg and see how it would feel in play, but, unfortunately, in the end I had to give up my attempts because of intense pain.
Now I am in Moscow at rehabilitation. Generally, the things are going well and I hope for the best! What are my further plans? I'll go to the tournament in Istanbul, I'll play some matches, I'll see condition of my leg. Most likely, I'll go to Turkey a bit earlier to have time for training.

translation
Hello everyone! A long distance tennis season is finally over. This year I had many great victories and insulting losses, ascents and falls. But really I don't want to think and analyze any of that any longer. In the end the most memorable moments were at the Olympic Games, at the Kremlin Cup and at the WTA Tour Championships. Perhaps I'd like to win everywhere, but I've not managed yet. Anyway at that moment I did my best. Now I'm more experienced and I have confidence that I can release everything that I work on... Certainly it doesn't always turn out that way, but it means I have something to keep working on ))) I'll try to do it next year and now I have time to take a break, to study and stay at home… just little bit)))

The weather in Moscow is cold now, I'd like it warmer, but never mind. So I'm searching my wardrobe for warm clothes.

Vera

translation
01-09-2008
Finally back home !!!
Greetings to everyone!
I somehow haven't shown here for a long time!!! Accept my sincere excuses, but I just didn't manage to drop in here. Either training, or flight, or match, or no Internet at hand!!! But right now I finally decided to cross by Starbucks close to the hotel and to write a few lines in my forlorn diary!!! Oh, it is just so, so long ago that I was away from home, so tomorrow I will jump into the plane and forget about tennis for at least 3 oncoming days!!! No, no, please, do not misunderstand me, of course, I would willingly stay in New York for one more week, but, unfortunately, it didn't come out as I wanted, so I will have to leave the tournament already tomorrow. ((( I suppose that in the first turn I need now to elaborate the technique… I somehow broke up exactly in technical aspect over the recent 2 months… That is why my blows are much slower and less accurate, which allows my contestants to play the game they want… And with only will one won't go far… So, 3 days of rest and – again fight!!! But, in the first turn, I would like to share my impressions about the Olympiad! In any case the Olympiad is something special… at least, for me…And I didn't expect to win the medal… and, in general, I am unbelievably happy that the whole pedestal is ours!!! We fought in Beijing for the whole country and for me it is great honour)))
And by the way, the Chinese took all pains. Perfectly organized, all of them are friendly and welcoming. Olympic village is a small sportive town with its own life and bustle!!! While I was sitting on breakfast since morning, Kobe Bryant and James Lebron close to me again making jokes with someone! So, such impressions will stay inside of me forever… Oh, my accumulator is getting lower!!! I am sending this record, only not to lose everything, I promise to add my story these days!!! And if you have any questions, write me, I will try to answer them ))))
Kissing everyone,
Vera!!!

translation