Diary (archive)
Hello everyone!

Sorry for the long pause in my diary, i could to enter to the internet only for 10 minutes, and I had time only for look my e-mail. Many things has occurred for last 4-5 weeks! But the most important, I could return on the court after my injury... In the morning when I should return on court in New York to play the the first match against Alina Zhidkova I doubted, that I will play... But we together with my coach and physio have made a decision to play... It was not easy, the first match for 4 months and at once on US Open… I didn``t know that wait of myself… But I tried to wrestle, not looking at the score… The match was very unequal but I could win it. After that I have felt again that I again on the tournament and again I could take part on the competitions. Next it was slowly, usual tennis days and the matches… Certainly, I need to watch over my hand, I till now cannot train every day, but to hurry up while is not necessary...

Now I am in Portozh, has won the first 2 matches, I will play soon against Verochka Dushevina. I think, it will be a good match, but here is very windy, and I don't know that to expect. The day before yesterday here were 2 storm, I know, that 4 persons died and 2 gone... Can be tomorrow there will be a day of mourning in Slovenia and all sports events can be cancelled... While i dont know... But I hope, will find the gone children... In general, I here in Slovenia was several years ago when we here played Fed Cup. It's very beautiful place and tennis club is on the seaside.

I forgotten I CONGRATULATE ALL WITH THE VICTORY THE FEDCUP!!! GIRLS IS GOOD FELLOWS !!! ! I am very glad for our country and girls. On weekend I also fan for our teams on the European Champinships…. Very glad for a basketball team, I CONGRATULATE THEM TOO! It is a pity, that volleyball players have lost (beautiful game was), but they too can be congratulated on 2-nd place, not each country to reach to the final.

So I haven't more news,
See you,
Vera

translation
11-08-2007
First trainings

Hello everyone!

I just don't know what to begin with. I'll start from the beginning!!!
A few days ago at last I came to the court after a long break So much new emotions – as if I took the racket for the first time :) But the result was not bad (for the first attempt).

Unfortunately I can't hit the backhand with full power (only 10-15 minutes a day), but the main thing is that I can be on court :) Now I should take care of the wrist for several weeks not to overwork and injure it once more. There's a doctor beside me - he has been helping me a lot during this period. So that I feel myself much more confident with him!




Last couple of weeks I devoted much time to the rehabilitations (recovering) but I was in time for visiting the beach together with my coach Sam and Meilen. It was so wonderful! We played football, mini-tennis and even tried to ride on the surfing-board :)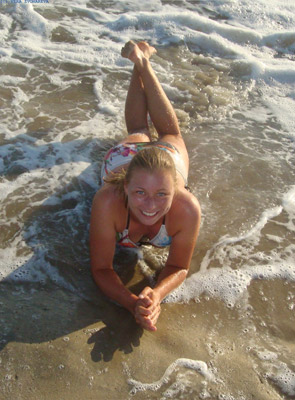 So that my next vacation (holiday) I'll spend on the seashore :) Although I dream to visit Baikal (Baikal is the biggest fresh lake in the world (it contains 20% supplies of fresh water on the Earth - and the most beautiful. It's located in Siberia). So time wil tell…

Embrace you all,
Bye-bye

translation

Hi everyone.

My last entry in the diary was some weeks ago. Each time I'm waited next roentgenograms and next visits to the doctor. One week ago I have a roentgenogram again and as result all was normally. But to play tennis now is very early and in 10 days I hope I will begin trainings slowly – 10-15 shoots during the day. The main thing that I didn't hurry up to not get the repeated injury. So it all that I can tell you about my wrist. I have forgotten to say that now I'm in Tampa (in Florida) where I train in off season period. I arrived 5 days ago and here is very hot. :)And I can't in the afternoon to go to the outside. And also here it is very damp:)

Aaa I forgotten it also… I was in St-Petersburg (Russia). I dreamed to visit to this city very long, but there are not woman tournaments, and I haven't time to visit here early. About 3 weeks ago at last I was here. It's very nice place. My brother and the aunt live here. So it was excellent! My brother is the video-operator and he has taken me from to shootings of a clip :)
Still I have seen the white nights and a raised bridges. Yes, and the Chizhik-Pyzhik

:) (symbol of St-Petersburg)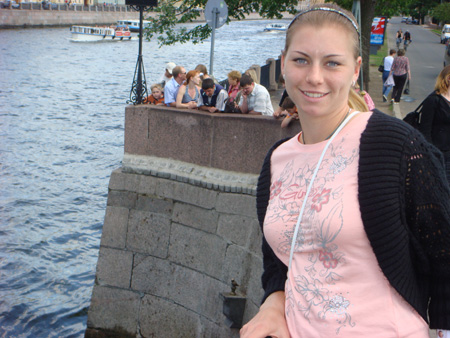 I heard that Shamil Tarpischev had a problem with the American visa. It is not so pleasant. But now is all right and I wish to ALL RUSSIAN TEAM GOOD LUCK! I shall to be a fan of our girls!

Bye,
See you soon :)

translation

Hi, everyone !

Thank you very much to everyone, who wrote messages in the guestbook, very pleasure that you support me.

10 days ago I returned in Moscow from France, where report to me, that while surgery unnecessary. Doctor has not reported exactly, when i will start training. All it will be depend of my convalescence. So next 3-4 weeks i will have a fixative on my hand and later i will take roentgenogram again.


Few days ago i flew to Astana (Kazakhstan), Shamil Tarpischev (russian tennis team captain) carried to here the Davis cup. I like tennis club in this city.

I will trying to show photos in the future.
Good Luck and See you !
Bye,
Vera!

translation