Vera Zvonareva's tennis and mathematics - Translation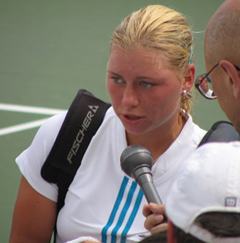 I saw one of the leaders of women's Russian national team, 19-year-old Vera Zvonareva at "Luzhniki" court, when she was preparing herself for Federation Cup match in Moscow with her old friend Nastja Myskina. She was as  ingenuous, extremely concentrated and emotional as she was at Montreal court when she defeated her compatriot, Wimbledon champion Masha Sharapova with confidence, and met French Amelie Mauresmo in the final round of Roger's Cup.
It was a fight between characters. But Mauresmo, experienced in tennis battles, prevented the Russian girl from reaching final round. You should have seen these knuckles holding the loser's racket as they turned white, Vera's eyes burning with aspiration for victory at tie-break, and a cold handshake in the end of the match: "My final round is still ahead!"
She is right – her victories are still ahead. After all, Vera Zvonareva is a natural fighter. Brave and fearless. Every match she plays is a little struggle, and Russian tennis-player tries to do her best to achieve victory.
Now it's hard to imagine that there could have been no such talented and already favoured by many tennis-player in Russia. Then we would have figure-skater or swimmer Zvonareva: in her childhood little Vera enjoyed figure skating and swimming. Girl's parents, Igor and Natalja Zvonareva, managed to foresee the great sports future for the five-year-old-child. To foresee but not to determine. As always, the main thing was determined by destiny, - six-year-old Verochka met a wonderful tennis coach Svetlana Kryuchkova. It was the time when the future world star of the courts was first introduced to a racket. Though particular interest for tennis was innate for Vera. This innate passion was received by Zvonareva from her mother, a big fan of this elite (in her times) kind of sports.
Gradually Vera gave up skating, took her glasses and swimsuit out of the sportsbag and put them in the wardrobe, and tennis became her main entertainment. It was exactly entertainment, because… "I always went in for sports mainly for pleasure, and at that time the main thing for me was good progress at school, - Zvonareva confesses. Tennis didn't prevent me from studying at all. I was always good at studying, made all the tasks diligently and fulfilled all requirements. I liked to study. But with my first victories I understood that I want to engage in tennis seriously and devote my life to sports."
It is surprising though: Vera never dreamed of becoming a professional tennis-player. "I didn't think much of my future profession in my childhood. I was very fond of exact sciences, mathematics was my favourite subject. So if I wasn't a tennis-player, I probably would have devoted my life to mathematics or information science" – Vera laughs. So that is the key to her accurately counted shots and combinations at tennis courts!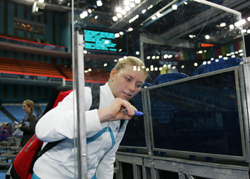 Now Vera continues to study. She is now a fourth-year student in the Russian government academy of physical culture.
– I still study with pleasure and perceive the basics of a coach's profession. Still only in theory. I like to study but, unfortunately, I can't find enough time for education. In the middle of may I passed the summer exams successfully enough, and got back to my coachings and performances with a peaceful concsience.
– Vera, would you like to work as a coach in future? – I ask Zvonareva.
– Honestly speaking, I was attracted by this profession some time ago. I wanted to try to coach children very much. But now I can see, that work of the coach is not at all what I thought of it in the beginning.  I would like to try to work as a sports manager.


A tennis player…
– At what tournament did you have your most successful performance this season? – I asked a question closer to tennis.
– Of course, it was Memphis – I was the winner of this tournament. There I played against Masha Sharapova for the main prize in final round. By the way, Russian girls happened to meet again in Montreal, and again Vera turned out to be stronger than Sharapova. Maybe tennis gods be merciful to Vera in Wimbledon next season?
– In Montreal we participated with Sharapova in pair, – said Vera as if she had foreseen my question, – she is a great, sociable and simple girl. And a very clever one too.
– With whom of the national team you communicate most?
– I am friends with Nastja Myskina, Alena Likhovtseva, I have good relationships with all the girls. We try to keep together at tournaments and we coach together. Of course, there's some competition among us, but it seizes tennis only.
– What match do you consider the best in your career?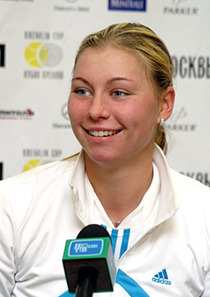 – Meanwhile, the last-year match with Venus Williams. I defeated her with confidence, moreover, with some composure. It must be admitted that I wasn't nervous before the game. My own calmness seemed strange to me – I was playing against Williams herself!
A fan …
It turns out that Vera is a real soldier. Or rather, a CSKA (Central Sports Club of the ARMY) fan. She coaches at CSKA courts under the direction of Julia Kashevarova and supports the army hockey team – with all her heart!

– I adore hockey. Field hockey and usual hockey, with hockey-stick, ice and all that ice-hockey equipment, – Vera tells. – A great number of my acquaints perform in the team. I know Andrej Nikolishin, because I always watch matches when he plays and support him warmly. When I'm in Moscow, I watch the progress of "Lada Toliatti": Gonchar, Zubov and other hockey-players whom I know for NHL games, play for that team.
– I can see you are very sports girl…
– Why, of course! I always try to be up on sports life. I watch with interest not only hockey, but also volleyball and football. Though, when tournaments are beginning, you forget about everything except tennis …
– Vera, is Kashevarova still your coach?
– Not exactly. Now Julia coaches one perspective tennis-player and has to accompany her to competitions. That's why a very experienced and remarkable coach Lex Carrington coaches me now in the USA, not far from Boston and New York. I enjoy working with Lex very much. He takes an individual, original approach to many things in tennis tactics. And on the whole, he brought much new to my practice, from some moments of the game to creating the necessary mood before match.
– Where do you feel more comfortable: in the USA or in Russia?
– In Russia, of course! Wherever I am, I always miss home much. I like Moscow, Kolomenskoe, these ponds, forest ….
– And on the whole, do you enjoy travelling?
– I used to, – Vera laughs. – I get so tired of endless passages and flights during the season, that I can't think about going somewhere without inner shuddering. But if become thoughtful for a moment, I would to visit Africa – I haven't yet been to Africa continent for a single time. Oh, and Egypt, by the way, too!
– And how do you prefer to rehabilitate yourself after exhausting matches?
– I try to spend as much time with my relatives and friends as possible. If I have a spare minute at tournament, I usually read or watch DVD movies. Lately I have read the documentary "From Khrushchev to Gorbachev". I recommend it to you – it's quite fascinating! As for movies, I prefer our movies, Russian and Soviet. For example, my favourite one is "Vse budet horosho" ("It's going to be all right").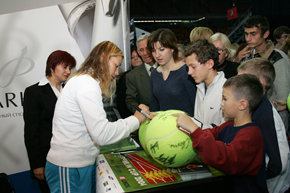 …And a beautiful girl Vera Zvonareva
– What do you think of tennis fashion on the whole?
– The main thing for me is that the sports uniform should be comfortable. I've made a contract with Adidas, that's why I don't have to choose clothes for my performances. But then, when not at court, I wear the things I like: tolstovkas (long jackets) and jeans. Of course, I have to wear something austere and classical at official meetings, but really I prefer extremely simple clothes.
– Is it true that you have some special rackets?
– Yes, they were ordered and made specially for me.
– You surely take good care of them, and don't beat them like Marat Safin…
– No, I don't, I beat them hard! – Vera smiles. – Sometimes I have to let my emotions out this way.
– And what can drive Vera Zvonareva crazy at court?
– Her own stupid mistakes. In case of being lost you should feel angry not with your rival, but only yourself.
Speaking frankly, do you have many admirers?
– Frankly? I don't know! – Vera laughs. – I autograph them, they give me soft toys, but I can't say that I'm some kind of a star. By the way, at Montreal tournament one artist gave me his picture.
– Vera, and what young man could conquer your heart?
– It's a very good question. I guess, the main thing for me is that my man had brains. But… I think, the heart has a will of its own.
– And is it free now?
– Right now I can say only one thing: I can't understand many things myself, including the love matters.
17.09.2004
"Tennis & Business"