Six Belongings of Vera Zvonareva - Transation
Life of a professional tennis player consists of the endless number of passages from one place to another. Airplanes, hotels, unfamiliar faces, strange environment – all of this makes up customary sportsman's habitat. That's why almost all of them try to take as many things that are dear to their heart, habitual, and make it a tiny bit warmer, as possible. Vera Zvonareva always takes with her her favourite sweater, little plush doggy, handbag with cosmetics, an English dictionary, player and a notebook.
SWEATER




— I like sweaters very much.. And it's very comfortable – though it's not homespun, it's bought. And it feels like it was knit with the knitting needles by my grandmother. Also I like it that it's multicoloured and can be worn with all kinds of clothes. Lately I got tired of black colour, that's why I try to buy lots of coloured things now.


DOGGY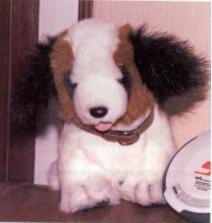 — Lex gave it to me (Carrington, Zvonareva's coach – Ed.) when we'd been working with him for 3 weeks. It's my talisman, I never part with it. Doggy always lies at my bed. I call it Al-Al. I don't know why but it seems to me that something like that was written on the label. And it is easier for Lex – he doesn't have to pronounce a russian name…


NOTEBOOK

—Lex ordered it for me in Los Angeles, but I received it at US Open. Before this I had a pretty big and not very handy computer. And this one is small, compact. Every time I am inside the hotel room, I connect the Internet (whenever I have such opportunity). Also I store music there, more than 3000 songs. I can always switch it on and listen to it.
HANDBAG and a DICTIONARY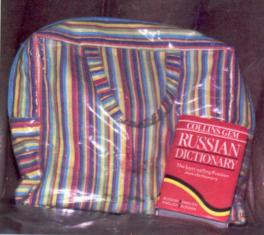 — I bought this handbang in England about 2 years ago. It's very handy, I can put there lots of things. Also, it is multicoloured and can be seen anywhere. Whenever I search for it in the big bag, I can easily get it out. Moreover, it is upholstered with oilcloth and nothing falls out of it.
— Lately, I haven't parted with my dictionary. Lex keeps saying some new words. As a matter of principle, I understand him all right, but he has rich word-stock, and from time to time he uses unfamiliar words. Sometimes I give him the dictionary, and he shows me something new himself.
CD-PLAYER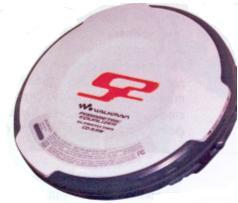 — I always take it with me. They gave it to me in Los Angeles – Sony Company was one of the tournament sponsors then. It is good because it can be worn on the hand, so when I fly airplanes I always listen to the music. Or I write music myself with the help of my computer, and then insert CDs into my player. It's important that it supports MP3 files playback.
About music, shopping and high fences
As our readers must have already found out, Vera Zvonareva is a modern woman, knowing much about music and competent in technical equipment. It's curious that one of the few places in Moscow where she was once recognized, was exactly the radio-market. It takes one to know one, just like in a proverb. The salesman who had sports newspaper in his hand suddenly asked: "Miss, are you a sportswoman?". Vera didn't conceal her true face, signed her own photo but refused presents.
—Vera, what music in particular you enjoy listening to?
— Lately I've been listening mainly to our russian music – both rock and pop. I guess, it's because I miss home very much. I like the song by "Umathurman" band from the "Nochnoj Dozor" movie, Serega with his song "Chernyj Bumer" and "Fabrika Zvezd" also. I buy DVDs everywhere and watch them on my computer. They sell multi-zone plugs in Moscow. You can buy only American-zone ones in the USA, and I can change the zone only for several times on my computer. And it turns out that I buy multi-zone DVDs on russian language with english subtitles. Lex can watch them too, and simultaneously he gets russian words little by little. It's useful.

— Did you watch the new movie «Wimbledon»?
—During the Federation Cup «Final of the Fourth», Sveta Kuznetsova bought some weird DVD. From time to time video became black and white, there were constant creeping lines saying that it's a copy, so we didn't even watch the movie up to the end. I want to buy it in normal quality – it's a light and funny movie...

—Do you practice shopping-therapy?
— Cosmetics – not too often. But I enjoy shopping. If I like something – I buy it. Not only in boutiques, but in simple big superstores also. Lately I bought two jackets in America – light, comfortable, and they cost 10 dollars each. Of course, the quality is not superb, but they can be worn in not too cold weather.

— Do you visit beauty shops?
— Yeah, sometimes I have a wish to nuzzle in some shop. Sometimes I even have such mood that I just want to stroll without necessarily buying anything. And sometimes, on the contrary, I like every single thing as I walk. But after an hour's walk I am already tired. Lately I've been buying lots of footwear. Actually I have million running-shoes. But now I gradually started to buy some boots, shoes. Though I wear them seldom enough.

— And do you have many evening dresses?
— Oh, I guess, not a single one. I had one for graduation. Such flimsy one. 4 years have passed since my school years, and I still have it, I tried it on once – and it fitted perfectly. I also have skirts, blouses. But I have more trousers – I feel more comfortable in them. You put them on and go, and if you wear a skirt, you need pantyhose also. For one skirt pantyhose of one colour, for another skirt – of another colour. It's difficult to carry it all.

— Do you visit beauty shops?
— There is good place in Moscow not far from my house, sometimes I go there. Mainly, it's just manicure, pedicure, coiffure. At one tournament in the USA there's a beauty shop that works for us whole day long, but it works by previous appointment. Naturally, all the players try to get there. The only thing I afforded was having my hair cut and facial massage. I've spent 2 hours on it – I had no more time.

— I know you like figure skating, hockey. Do you visit skating rink yourself often?
— After the Kremlin Cup, at Linz tournament, I and Lex went for a walk on the quay. We saw the skating rink. Got over the fence, hired skates. I stood all right, but the way he skated was such a show! He is from Massachusets, but as he himself puts it, he is the only child in the family who hasn't learned how to skate. He plopped down this way and that… But then he went all right, got it. Some time later an inspector came up to us and asked: "Did you pay for the visit?" I showed him the check for hiring skates and he said: "You need another one". I gave him 5 euro, he brought us some check and asked: "And how did you get there?" And I couldn't say that we'd climbed over the fence! It was Austria, no-one could understand it there. I said: "We entered from the other side". It all ended with me riding on the asphalt at the exit. My knees were bruised for 2 weeks then. As for hockey, I can't find time for it. When we were in Washington we got acquainted with Andreyj Nikolishin who played in a local club. There was Sergej Gonchar and Dainus Zubrus also. Nikolishin now plays in CSKA, he came to support me on Federation Cup with his wife and children and invited me hard to hockey.
About Fed Cup
Naturally, the MT correspondents couldn't fail to ask the owner of the Fed Cup who'd been playing in national team for more than year, a couple of questions about the future of the team.
— The Russian national team won the Fed Cup. What will happen next year?
— I don't know who's going to be the captain. But first of all, it will be the friendly team that's going to be formed. If there's something wrong in this respect – it's hard to play, because the Federation Cup is first of all a team competition. On the other hand, we can't know in what condition we will be – rating, injuries, calendar. The would-be captain will have to ring everyone up.

— Is it professional for a player to decide if he is or isn't going to be in the national team according to its staff?
—We didn't have such problem this year, and I think that we won in many respects because our team was a united, solidary one. The French also won last year because they had a friendly team. But if it's unpleasant for Nastja to play when Masha's father behaves the way he behaves, then there may be no sense in such team. The conflict is possible, and there won't be a normal game.

— And Masha herself behaves the other way?
— We don't have anything against her. By the way, I used to coach myself with her, played pair. And her father treats me well enough. I understand Nastja – Yurij is an emotional person, but, on the other hand, it's his daughter, he wants to protect her. Larisa (Savchenko – Ed.) said that when we played with Masha, there were also a couple of such moments – I fell down and he stood up and started to clap his hands. But I don't think it was specifically against me. Most likely, he just invigorated Masha this way...

Olga Alekseeva/Photo by Natalja Shcherbakova
"Matchball-Tennis" Magazine (№1 January 2005)