Vera Zvonareva: I have no problems playing on grass now
- How was your transition from clay to grass?
- Last year it was a lot tougher because it was the first time I played on grass and simply didn't know how to play on it. This year I came to England a week before the tournament and fully adjusted. I have no problems playing on grass now.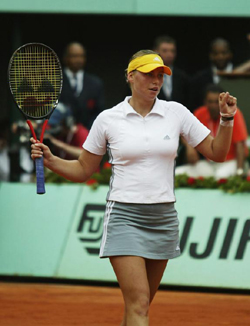 - After reaching quarters of French Open, you decided to play a clay court tournament in Vienna. Was it planned before or you like to prepare for grass in an unusual way?
- No, it is because I scheduled my calendar before and could not withdraw because it was too late. In the beginning of the year we figured that there would be more hard and indoor tournaments, while not too many clay events, so we included Vienna in the schedule. Of course I was very tired after Paris but still spend some time practicing certain elements of the game that didn't work at Roland Garros.
- After your win over Venus Williams, did anything change in your life or you remember it as a glorious moment?
- Not really, practically nothing changed but of course I have nice memories about that match. Even if lose a match though, you should remember it as a good experience. It will help you in the future.
- In the first round of Wimbledon you only lost 2 games. Was it because you were playing so well or your opponent did not show her best?
- I never played her before and didn't know what to expect. I came on the court with a fighting spirit and played hard and probably didn't let her into the match.
- Then, there was Spanish, Martinez Granados, who you beat just recently in the final and who is 9 years older than you. Does it matter for you who is on the opposite side of the net a young player or an experienced player like her?
- Now, I don't really care. I don't even think about it. It's much more important whether I played her before and what was the score.
- What do you think of Iroda Tulyaganova?
- I never played her but I know she is very comfortable on grass and in 1999 she won a junior title at Wimbledon and other surfaces too. For a while she was injured but now she is healthy. It will be tough, but I'll try my best.
- If you won that match, who would you want to play, Venus Williams or Nadia Petrova?
- Of course it would be better if Nadia wins. In general I wish all Russian players will advance as far as possible.
- Venus would be tougher on grass than on clay?
- I think so, because she has a lot of weapons. On grass you can't give her any soft balls, she will nail them.
- Who is your coach now?
- Julia Kashevarova. When I play in European tournaments I practice in Moscow. When I play in US then I practice in Washington.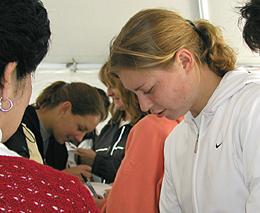 - Where exactly in Moscow?
- I don't have a permanent club there but before Roland Garros I practiced at "Spartak". They are always pleased to see me practicing there.
- You mentioned before that you wanted to break into top 20. You achieved that goal. How about top 10?
- Of course it is my dream to get into top 10. It is very hard though. I think more importantly now is to be solid where I am now( not to drop in the rankings) and then try to move up.
- What part of the game you are working on now?
- My serve, to be more aggressive and confidence in my decision-making.
- And how do you work on your confidence to make the right decisions?
- My coach sends me short balls and I should put them away without much thinking, while my coach is picking spots. In the match sometimes, I start to think too much how to play it: where to hit it, at what pace and so on. That's how I make mistakes.
- This is your second season in WTA. Did you get used to the players or still a rookie on the tour?
- Every week I see the same players and sometimes I have a feeling that I know them for many years. So I am not a rookie anymore.
- Did you get the invitation to play for Russia in the Fed Cup quarterfinal?
- Yes, I got a call from Larisa Neiland. But there is one problem. I have a contract to play an American competition called Team Tennis about the same time. I asked my agents to do something about it and I hope they will solve this problem.

"Sport-Express" 06.2003