Vera Zvonareva – 13th warrior - Translation
Nothing succeeds like success" – that's the thing to say about Vera Zvonareva's progress. And she's only nineteen years old! Besides, she has a clear-sounding, optimistic name. The name itself fills one with hope for becoming a real star of Russian
tennis soon...

— Vera, it's still not time yet to speak about the new season, so let's remember the old one. What it was like for you?
— It was successful enough, I guess. In its beginning I was ranked 45th in the world rating, and now I am 13th. Of course, there were some disappointing defeats, but there were victories also. To rank among 15 world's greatest tennis-players is a very good achievement.

— What do you think of your 13th place? After all, it's baker's dozen!
— Some people say that this number doesn't bring happiness. So we'll check it up in the season that's begun. Anyway, I'll try to reach, perhaps, 12th place.

— What are your greatest achievements in tennis today?....
— Last year I reached quarter-final round in Roland-Garros. To be among the 8 eight greatest at Grand Slam tournament — is a result.
— An issue of the day: with whom is the future of women's tennis — with graceful sportsmen or athletic set-up ones? What do you think about it?
— I don't think that victories in tennis depend on some physical properties. Of course, sometimes they help. But tennis is not only a physical game, but an intellectual game also. Everything is achieved by the right choice of tactics and good shots.

— And what's your type, in your opinion?
—I'm not too strong and tall (171 cm height, 62 kg weight. — ed.). So I try to develop individual tactics for each rival and change something in my own game.

— Are tennis-players allowed to gain weight, or is it objectionable?
— It is not advisable for all tennis-players. There is such thing as play-weight, when you feel comfortable at court: your shots are strong enough, and you can move well. If you begin to feel some discomfort, then you may have to lose or, on the contrary, gain weight. There was a moment when I grew tall and became too thin – I didn't have strength even to strike the ball. Then I gained some weight and felt that I was able to strike well.

— Do you have an idol among your colleagues?
— When I was growing up, I liked Martina Higgins very much. She could foresee the ball's direction perfectly well, felt the court and played very wise there.

— And an idol among male tennis-players?
— I always liked Evgenij Kafelnikov. And Andre Agassi is still good.

— Do you manage to learn from other players' actions at court? After all, it's much better to learn from someone else.
— Usually at tournamnets, especially at Grand Slam, we always go to watch interesting matches. Especially if I am fond of some player's game. As for TV translations, I enjoy watching men's tennis more, because I already know every player in women's tennis and have an idea of what the match will be.
— And can you guess if you will or won't be the winner in a forthcoming match?
— All the top-hundred rivals are very strong. I never make such forecasts, just get ready for every single match. And try to show my best tennis I am able to play that day.

—And how do you get ready?
— In different ways. We sit and discuss match tactics with the coach. Also, I can listen to music or read a little.

— Are there some signs you follow in order to win?
— No, I don't have any signs. Earlier, in my childhood, I took a toy Mickey-Mouse with me wherever I went – I had such little talisman. And now my talisman is conversation with the coach – Julia Kashevarova. If I don't speak to her before the match I don't feel at ease.

— Are you always together with your coach?
— Practically yes. Though sometimes she isn't able to visit some tournaments. Now she works in USA and can't leave the country for long.

— What does the everyday coaching of the sportsman of your level include?
— If it is coaching before the new season, I have four hours of tennis and two hours of callisthenics a day: athletics, weight-lifting exercises, including exercises on training apparatuses. Every day the coach makes up a plan to be fulfilled. And when we go from one tournament to another, we have two hours of court training a day, and a bit more than an hour of callisthenics.

— At what courts do you like to play most?
— I like to play in Moscow and in Paris at Roland-Garros. I adapt myself to all courts, though.I just need some time to get accustomed to this or that surface. Some people do this fast, but I am slow. But when I am accustomed, I enjoy playing on all kinds of surfaces. I try to come to competitions in advance. Often I just don't manage to do it – we have a new tournament every week.

— There are so much of them?
— There are tournaments every week since January. We all just choose where we go and where we don't go. Last year I played in 23 tournaments.

— Is there some tournament limit, a number of tournaments you have to play in order to stay in world rating?
— Rating is comprised of results of eighteen best tournaments, but to get there it's enough to play three. You just have to get some score in these three games. Some tennis-players play very little, others play very much.

— On what principle do you choose the tournaments?
— There are different categories of tournaments. If you are high enough in rating, you have to play in first and second categories. If you are a little bit lower, then to gain more score you can play in tournaments from 3rd, to 5th category. As for me, I choose tournaments in such a way that I don't have to fly from continent to continent much. For example, I play a series of tournaments in Europe and then fly to the USA.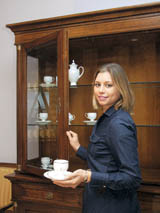 — That's for the sport. And wouldn't you like to become an actress in future? Or to become a star of show-business?
— Oh, no! I don't strive after show-business.

— And what about making TV career? It's a fashionable thing among sportsmen now.
—If only to comment upon tennis matches. As for journalism…I don't think I like that profession much. I'm more fond of exact sciences: mathematics, information science. I liked algebra when I went to school. I don't think I'll become interested in journalism.

— There is a russian proverb: the wood-cutters speak about women in forest and speak about forest to women. When during the competitions you gather together with the girls – what are you talking about: about your girlish things or all the same about tennis?
— We talk about everything! Sometimes there's no wish to speak about tennis. But, of course, the matter always concerns it. But there's a wish forget about it for a couple of hours and have a rest, because you have to go to the court the next day.

— Are you a moscower?
— Yes. I live with my mother and grandmother.

— How do they treat your progress?
— My mother is an ex-sportsman herself. She played field hockey and even was the bronze medallist of Moscow Olympic Games. But she always liked tennis, and she supported me much. And my grandmother had been taking me training for whole ten years in my childhood. Now she watches me on the TV and she's happy that it hadn't been in vein.

— And didn't you want to follow your mother?
— I visited the coaching a couple of times. But there they hit me so hard on the finger, and the second time on the leg, that I decided I won't play field hockey anymore.

— Do you miss Moscow?
— Of course I do. I always want to go to Moscow. There are my relatives, childhood friends. And then, it's much easier to understand russian people. Abroad, there are different conceptions, different people.

—And how often do you manage to be here?
— Last year I spent about, I guess, two months in Moscow altogether.

— When you come to Moscow, how do your mother and grandmother meet you?
— They make something home-cooked. Nothing special, in principle. Grandmother bakes pancakes. After all, you can't eat such pancakes as here somewhere else! Sometimes I want to eat the same old sooshki (ring-shaped cracknels) or oat cookies. And drink our tea. Maybe, the tea is absolutely ordinary. But in the family atmosphere it's so much tastier.

— Do you have some favourite places in Moscow?
— I live in Biriulevo. I like local ponds and forest. I like Kolomenskoe. And sports complex "Olimpijskij", where all tennis tournaments take place. When I come to Moscow, I visit it in the first place. Also I like to walk along Tverskaja.


— How do you spend your free time when you're home?
— I watch TV. Why, the speak russian. Abroad I miss russian speech much.

— Do you take russian books with you?
— Yes, I am fond of our classics. Usually I take 2-3 books with me. I've read "Idiot" by Dostoevsky lately. It's bit of a strange book, but I liked it.

— And have you seen the TV series based on the book?
— No, unfortunately I didn't manage to see it. Maybe next time.

— Do you have a hobby?
— I like to write music on CDs. I gather it from the Internet and other CDs. Mainly russian, songs of absolutely different styles – pop, rock, chanson. I always listen to something russian in my car. Really, there are sometimes so stupid lyrics. But I hear the russian speech, and it all seems so cool to me!

— Have you been driving a car for a long time?
— I started to drive a year ago in the USA. I've been driving in Moscow since last summer. At first it seemed to me very hard here… There' s absolutely different traffic in comparison with the USA. But I got accustomed to it in a fortnight.

— What car do you have?
— ««Volkswagen Polo». A white one. Didn't have time to choose, I had one free day in Moscow. And mother who drives a car most, needed a small car with simple control.

— Do you like to travel around the world?
— Of course, it's interesting to see everything. I enjoyed Barcelona and Paris very much. And last year I visited Australia for the first time. But sometimes you get so tired of flights that you don't even want to enter the airplane. We always go from one place to another. Sometimes you even forget where you are.

Natalja Yuzhina, photo by Natasha Chetverikova
"TV-PARK" 2003